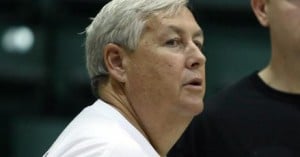 This set of basketball coaching clinic notes was taken by Lason Perkins who attended the 2010 Coaching U basketball clinic. The speaker is coach Brendan Suhr who is very well known in the basketball coaching industry. NBA.com had this to say about him, "Brendan Suhr is one of the game's most-respected figures as a coach and executive, he is also a two-time NBA Champion."
Notes Taken by Lason Perkins
2-2-1 Defense
Hubie Brown: Second team played 2-2-1 trap.  Got them engaged, felt valuable.
SOB/BOB are like special teams.  Place emphasis on them.
2-2-1: Can deny, trap, and match up.
No traps in front court
No layups
On middle penetration, X2 will run and jump.
Same concepts as Pitino match up press.
"Black Out":  X1 and X2 face guard and deny.  Good to get into after layup.
2-3 Zone (Syracuse)
X1 pick up ball and force to side.
X2 yells "Bump", sends X3 back.  X1 sprints to ballside elbow.  X5 fronts
Bumping is zone version of closing out.
Anytime ball goes over forwards head: trap it.
Chuck Daley's best drill: Controlled scrimmage, first team to score twice wins.
Jordan Rules
Ball on wing: Force to middle, trap with nearest player.
Ball in middle: Force left, trap with closest player.
Trap all PNRs. Make him a passer
Trap him in post from the top.
Can also run 3-2 zone and trap star wherever he/she catches the ball.
Offensive Ideas
Double Drag (either half court or off break): Pick and sprint to the rim, best shooter pops.
Set screen on pro lane extended, as high as needed.  Put 4 in corner to eliminate help.
On PNR: Who has the ball?, Who is setting the pick?, What angle is the pick?
To be a good offensive coach: Know defensive actions.
Can run from stack set or 1-2-2, once ball is on wing and reversed, can run double exit action or have 1 screen.
Career Development
Just because you have a title does not make you leader.  At the same time, you do not need a title to be a leader.
Leaders define reality
Create hope and optimism
Inspire, influence, encourage
It's about your relationships.  Listen to your players
You don't get a job with a resume, you get a job from your relationships.
Managing: Putting talent together
Lots of talent evaluation
Personnel decisions are usually 50/50
You are a brand
Build trust
Innovate
Does your talent let you take them where they can't take themselves?
Brendan always asks two questions to players and coaches he works with:
Are you coachable?
May I tell you the truth?